How do I earn money in these Gentlemen's Clubs clubs?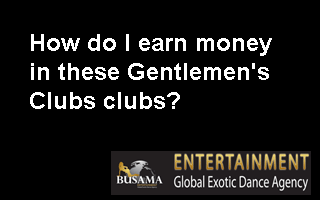 How do I earn money in these Gentlemen's Clubs clubs? There are generally a few set options in all clubs.
i. Club systems vary from club to club and country to country. Some clubs tend to involve a little more sitting and entertaining customers than in some other countries.
This definitely does not decrease your earning potential and can make your nights a little more interesting than if you are constantly running around the club hustling for dances.
Some clubs but not many offer Drink commissions – a commission is paid to you for every drink the customer buys you, drinks do not have to be alcoholic.
ii. Stage tips – as in all clubs customers are encouraged to tip you on stage while you dance –
iii. Table dances types of dances & prices for them vary from club to club
iv. Private dances – Private dances, VIP dances, Lap dances, all vary from club to club
v. Tips at the table – customers do not always want to do dances with the girls. You need to politely make them understand that if you are sitting entertaining them for a period of time you could be doing dances elsewhere, and, that like everywhere in the world, time is money.