How long do I have to stay for?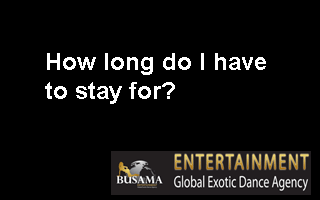 How long do I have to stay for? Every club is different, and depending on where you live and what club you are hoping to work in, you may need to travel a long way, even overseas to get there.
Most of the clubs that we work with have no minimum or maximum required stay, you can go for as long or as little as you like. Some clubs require a 1 month minimum, some less, it all depends on the club.
To travel to a new country and adapt to a new culture and working environment does not happen overnight.
We suggest a minimum stay is 90 days but this can be a long time on a first trip to be away from friends and family.
For you to get used to the club and its system, get familiar with your co-workers and make regular customers we suggest 6-8 weeks as an ideal length of stay for your first trip.
We are of course flexible so you tell us how long you want to come for and we will try our best to work something out. Of course if you like it here, which we are sure you will, you can always extend your stay.