What should I bring with me?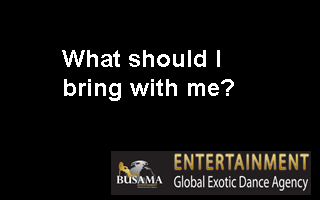 What should I bring with me? Below are just some suggestions, remember there are probably some things we may have missed off:
i. Appropriate clothing, check each destinations weather before you go for seasonal temperatures.
ii. Your dancing clothes – long and short dresses (every club has their own rules about Exotic dancer clothing and what you can wear during your shifts), g-strings, dancing/high heeled shoes. (Dancing clothes and shoes can be purchased at certain stores where you are going & depending on where you are going, you may get better deals there, but check first as you may want to buy at home before traveling)
iii. Purse – to keep your cash and tickets in whilst working.
iv. Make-up utensils and toiletries.
v. Your own pillow and sheets
vi. Towels (not supplied.)
vii. If you are bringing any electrical goods such as a hairdryer you will need an international plug adaptor that suits the place you are going to, make sure you check online.
viii. A guidebook – on that boring plane journey why not check out what you are going to do with your spare time.
ix. A language dictionary – its nice to be able to say 'how ya doing' to your new friends in their own language, and it shows some respect that you want to try and learn their language.
x. Bring your favourite music so you can dance to what you like. (the DJ will play almost anything you request however if you want a real slow song when the club is full with a busy happy atmosphere this may not be possible.)
xi. All relevant documents if you are traveling overseas – do not forget your passport, airline ticket and travel insurance details before leaving the house!!
xii. Relatives / friends phone numbers and addresses (remember to find out your country code for dialling home.)
xiii. Any foods for special dietary needs you may have.
xiv. Enough prescription medicine for your entire trip for any allergies or conditions you may have. xv. Cash/credit cards to see you through the first few days until you have started making money at the club.