When do I get paid for my Lap Dances?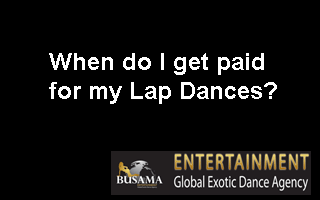 When do I get paid for my lap dances? All the money you make is yours paid directly to you by the customers on the night. The only exceptions are:
i. Any dances paid for by the customer with a credit card are paid to you later that night upon completion of your shift or some clubs the next working day.
ii. This also depends on the club, many clubs will also cash you out for all your money each night at the end of your shift.
iii. Drink commissions are paid to you either every two weeks or every month depending on the club you are working in and IF the club does this or not.